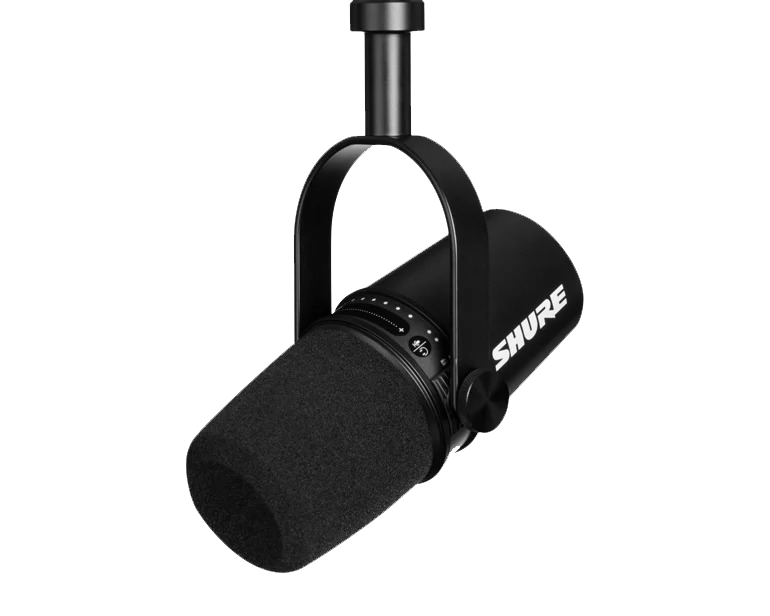 So we believe that there is no reason for your audio to be bad in this current day and age. Microphones have become more and more reasonable over the years. And some of the most affordable mics are USB ones which sound pretty darn good if you ask us. That is why we recommend the new Shure MV7 USB mic whenever we can. Especially to those who are thinking about starting a Twitch stream and they want to take their audio to the next level. The Shure MV7 is an incredible dynamic microphone which helps isolate your voice from room noises. Dynamic mics are perfect for blocking out mouse clicks and keyboard noises which makes them great for streaming on Twitch. We love the sound of this microphone and we're going to let you know why this thing is such a beast.
It's USB So It's Super Simple To Setup
Because this mic is USB and not an XLR mic, you don't need a audio interface or a mixer to plug this thing into your computer. The Shure MV7 is a USB mic so it really is just plug and play. You don't have to worry about the mic not functioning and you don't have to worry about having a cloud lifter or anything. No preamps are needed for this bad boy to work and it sounds surprisingly good. We love the fact that this mic brings people great audio quality without a whole lot of hassle.
It Eliminates Room Noise And Keyboard Noise
Do you have a loud room? Maybe a loud computer fan? Do you have a loud mechanical keyboard? This mic eliminates most if not all of that noise! Since the MV7 is a dynamic mic, it has a really tight pickup pattern. Meaning, that it focuses on what's in front of the mic. It doesn't focus on what's behind the mic like your keyboard or mouse. Dynamic mics are really the best for streaming and it's why so many streamers are using them. It's so pleasing to the ears when background noise is eliminated from your audio. Unlike condenser mics, dynamic mics are extremely focused so their best application is in a live environment like podcasting or streaming.
It Has A Built-In App For Processing
The MV7 comes with a built-in app called ShurePlus MOTIV which allows for the processing of your voice in real time. It's pretty good too and it has some nice presets to pick from. Processing allows for things like EQ and compression which are very important to achieving a high quality sound. These days, it's rare to see a streamer or podcaster not processing their audio. It's pretty much a requirement at this point and this app has a really easy way to accomplish that.
Is This The Right Mic For You
Is this the right mic for you? If you don't have an audio interface or mixer we recommend you try this mic out. Although the mic comes with an XLR connection, it doesn't sound any better than the USB connection. So, we do not recommend buying this mic if you already invested in an audio interface or a mixer. However, if you are new to the audio world and don't have any other gear yet, we can strongly recommend the MV7. It sounds amazing on the voice and is perfect for a newer streamer who is just starting out or trying to up their audio game. We could see this mic lasting you a very long time and you will not feel the need to upgrade any time soon. The mic also comes with a two year warranty which is a very nice touch. We hope you found the mic you are looking for! Thanks for sticking around! Cheers and have a lovely day! Buy the Shure MV7 here. And, check out our other articles here.